HOW DOES A DIESEL GENERATOR WORK?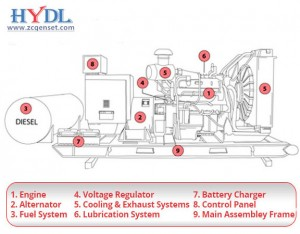 What is a Diesel Generator?
A generator set – sometimes called 'a genset' is a unit of equipment built up of an engine, an electric generator (alternator) to generate electrical energy from a fuel. In this case we are looking at a diesel form of engine-generator where diesel compression-ignition engine built to run on diesel fuel, they are relied upon by many businesses and other organisations to supply the electrical power they need during cuts, brownouts, or any other interruption to mains power, they can also be used as a continunous power source for many other applications including, events, powering off-grid homes and much more. There are many different types and configurations of generators, but they all work essentially the same way, and have the same core components.
How does a Diesel Generator create Electricity?
A diesel generator converts mechanical energy (movement) into electrical power and channels it through power cables. It can be helpful to imagine electricity flowing through wires in much the same way water flows through pipes. A generator can be thought of as a kind of 'electrical pump' which causes the electricity to flow through the wires. It doesn't actually create or destroy the electrons that flow through the wires any more than a water pump creates new water. It just causes it to move in a useful fashion.
The Components of a Diesel Generator